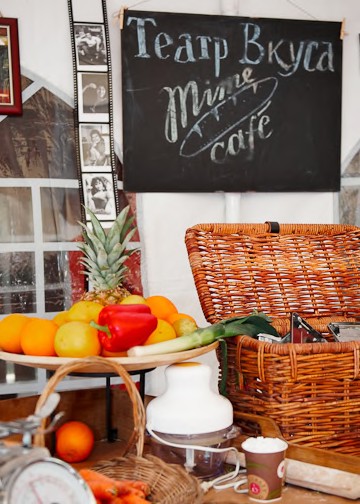 Week of Goodness at the Theatre of TasteThe Theatre of Taste held the Week of Goodness from 11 to 14 April just in time for the Easter holiday.
Yulia Razumova's project Cook&Talk was a pleasant surprise for all those that attended. The idea behind the project is to promote tolerance and knowledge of the cultures and traditions of other countries through gastronomical meetings with representatives of those countries.
All proceeds will go to the Lifeline charitable fund to pay for a high-tech operation for Alina Efremenkova (born 2010) in Voronezh Region. Alina was diagnosed with a congenital heart defect that requires surgery with an occluder. The medical instruments needed for the surgery cost RUB 78,032, though the cost of the surgery itself will be covered by the state.
Week of Goodness Programme: 11 and 12 April
Guests can look forward to acquainting themselves with the Passover and Easter traditions from Israel and Great Britain. Our instructors, Sofia Tupolev, and Andrew and Penny Grenfell, will teach us how to cook the traditional meals for these holidays.
www.teatrvkusa.ru/cntnt/ru/shkola/cook_and_t.html
11, 12 and 13 April
The chef-actors at the Theatre of Taste will hold a charity event for children and teenagers with down syndrome as well as orphans.
13 April
Guests can look forward to handmade Easter gifts prepared by craftsmen from Sangina.ru.
www.teatrvkusa.ru/cntnt/ru/shkola/pashalnye_.html
14 April
The Week of Goodness concludes with a play by Theatre Association 9 called The History of a Miracle.
www.teatrvkusa.ru/cntnt/ru/performances/istoriya_o.html
For more information call:
8 (499) 250 20 84, or 8 (499) 250 81 34.
Join us!