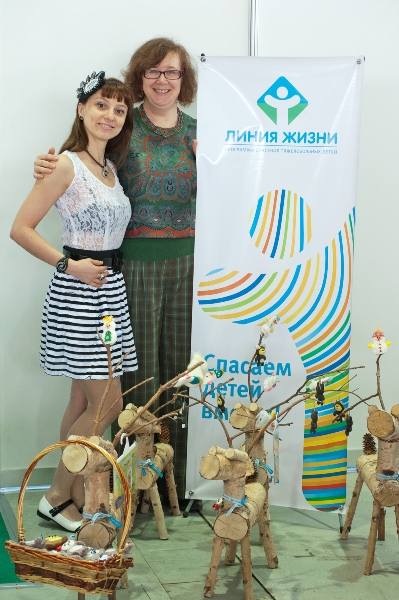 From 1 to 4 March 2012, the VII International Craft Formula Exhibition and Market, in which Lifeline took part, was held at the Sokolniki Exhibition Centre.
Thanks to participants we raised RUB 117,424. Proceeds will go to a surgery for Olga Spiridonova, who was diagnosed with a congenital heart defect. To correct the defect, Olga requires surgery with an occluder. The surgery will be performed at Children's Clinical Hospital No. 13 (Moscow).
A portion of the funds was raised by Sangina.ru and Planet of Beauty by the Hands of an Angel. They held unique felt crafts master classes at their stands to benefit Lifeline. Guests could buy handmade toys, arts and crafts supplies or simply drop some money into one of the donation boxes. The funds raised from the master classes totalled RUB 30,370. And at Lifeline's stand we raised RUB 84,300.
We would also like to highlight the company RTO, which gave several donations to the foundation, including: boxes for handicrafts, stickers and collectibles. And for our younger guests they provided a slew of whimsical gifts: teddy bears, silly kittens, striped tigers, and stylish boxes for safekeeping little treasures.
Craft Formula is one of the largest and most important events in the handicrafts and hobby market in Russia and the near abroad.
Visitors could browse the hobby and handicraft tools, and buy handicrafts made by hand by independent craftsmen, designers and artists, including: one-of-a-kind bags, slippers, bright wraps, stylish clothing, unique jewelery and much more.
There was also a tapestry exhibit and colourful fashion show on the stage.
The most distinctive characteristic of the spring fair was the large-scale Time for Quilting project. The project included a series of master classes on quilting, held not only by Russian and Ukrainian craftsmen, but also by quilters from Japan, the UK and the US.
We would like to thank the exhibition organisers — Craft Formula and especially Elina Fedyantseva. Thanks also go to Sangina.ru and Planet of Beauty, by the Hands of an Angel. We are also grateful to Pavel Ivanovich Romanenko, General Director of OOO RTO Ltd., Olga Yurevna Salamatova, Marketing Director at RTO Ltd., as well as all the participants and visitors who took an active interest in Lifeline's work.